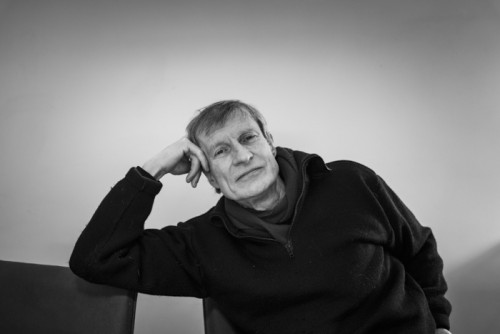 Michel. Michel Vanden Eeckhoudt… He was my friend. My best friend. I can only hope I was considered by him as his best friend. I will not know. I wouldn't have known. Because he had this incredible sense of modesty we'd only rarely talk about private issues. They were just mentioned, sort of inadvertently… We'd mostly talk about photography, ever since we followed a photography course at 'La Cambre', the fine arts school where we met for the first time at the end of 1968. Photography meant so much to us, included so much about life itself, that there was no real need to talk about our private lives. It was there already, inside photography.
We haven't stopped talking about photography ever since these careless days at 'La Cambre'. It went on at the race tracks where we'd take photographs for 'Virage Auto', at the darkroom a friend, Jacques Daune, had set up and where we spent hours processing and printing when we were not just fooling around, at Agence 'VU' which we both joined at its beginnings in 1986, and later, when our roads separated more often because the world is big and there are a lot of places to visit, a lot of stories to cover. It went on and on. Year after year. Unshakeable. Conversations to hold on to, through thick and thin.
They did not even stop the days after I took this picture of him, on December 12th. 2013, the last time I saw him, ill already. I didn't have the guts to go and see him in February this year, didn't want to risk seeing him diminished. I didn't want to alter the memory I have of a person dismissing so much of what is useless, so uncompromising in his trade, so focused on the person he interacts with, so just and fair, so clear-sighted about the world around him, with opinions sharp as a knife which cuts but doesn't make you bleed. I didn't want to see all this constrained by illness.
Now that he is gone I continue to have these conversations with him. That's what his photographs are there for. Thank you so much Michel.